As a part of Project A in this study, project researchers have examined some of the existing indicators and data on higher education quality in Norway.
They have analysed existing data that is compiled by Statistics Norway (SSB) and Database for Statistics on Higher Education (DBH). The working paper examines some of the challenges of using these data sources as basis for indicators about quality in higher education.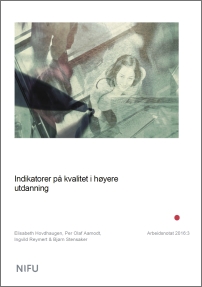 The researchers highlight in the working paper that quality indicators have different kinds of functions – for system and institutional governance, as an information source for the public (incl students who apply to higher education), as a basis for quality enhancement practices in the institutions, and for purposes of conducting research.
While a substantial amount of data exists on Norwegian higher education, several aspects of quality in higher education are difficult to quantify and measure. Thus, the report argues that indicators should be based on a combination of qualitative and quantitative indicators. For instance, merely measuring resource use would not necessarily say anything about quality as it does not give indications about the pedagogical approaches used nor the study environment at the institution. Furthermore, the report highlights that there likely is considerable amounts of data regarding process quality, but that this is not part of the traditional reporting in current system.
Download the working paper here (in Norwegian).