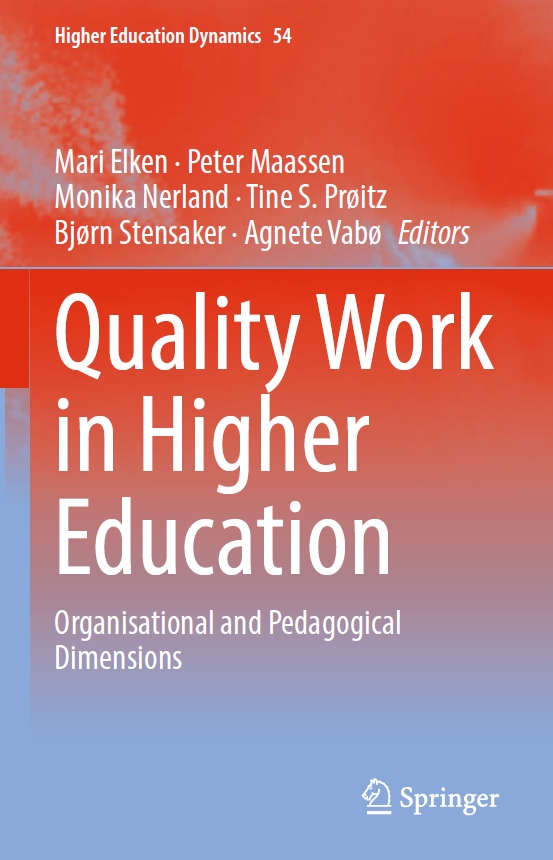 The edited volume that summarises some of the key findings from the project was recently published with Springer.
About the book: This book focuses on quality work in higher education, and examines the relationship between the organizational and pedagogical dimensions of quality work in higher education. Bringing together different disciplinary traditions, including educational science, sociology, and organisational studies, it addresses the following principal research question: How is quality work carried out in higher education? The book addresses a wide variety of academic, administrative and leadership practices that are involved in quality work in higher education institutions. The chapters in this book examine core issues crucial in the design and content of study programs, such as modes of teaching, learning and curricula design, as well as institutional practices regarding assessment and quality enhancement. The introductory and concluding chapter present an overarching focus on quality work as a lens to analyse intentional activities within higher education institutions directed at how study programmes and courses are designed, governed, and operated.
The book contains following chapters:
Researching 'Quality Work' in Higher Education by Mari Elken and Bjørn Stensaker
Quality Systems in Higher Education Institutions: Enabling and Constraining Quality Work by Mari Elken, Nicoline Frølich, Peter Maassen and Bjørn Stensaker
The Relationship Between External Quality Assurance and the Work of Study Programme Leaders: A Comparative Study by Per Olaf Aamodt, Ebbe Krogh Graversen, Elisabeth Hovdhaugen, Evanthia Kalpazidou Schmidt, Peter Maassen, and Bjørn Stensaker
Technology as Quality Work? Educational Leaders and Teachers' Use of Digital Technology by Trine Fossland and Cathrine E. Tømte
Layers of Consistency in Study Programme Planning and Realization by Tine S. Prøitz, Anne Line Wittek, and Thomas de Lange
Exploring Student Participation Challenges in Student-Centred Learning Environments by Monika Nerland
Making Group Learning Work. Processes and Pedagogical Designs in Higher Education by Crina Damşa and Anne Line Wittek
Plenary Teaching: Examining Opportunities for Student Involvement and Knowledge Exploration in Large Classroom-Settings by Thomas de Lange, Anne Line Wittek, and Trine Fossland
What Counts as Quality Feedback? Disciplinary Differences in Students' and Teachers' Perceptions of Feedback by Rachelle Esterhazy, Trine Fossland, and Odd-Rune Stalheim
Quality Work: Reflections and Refinements by Mari Elken and Bjørn Stensaker
The book is edited by Mari Elken, Peter Maassen, Monika Nerland, Tine S. Prøitz and Agnete Vabø.
There will also be an event associated with the publication later this autumn.